Video Transcoding
In January 2013, the High Efficiency Video Coding (HEVC) standard was established by the JCT-VC. The new HEVC standard is a natural evolution of its predecessor, namely H.264/MPEG4 part 10 – Advanced Video Coding (AVC) standard, which has dominated digital video services in all segments of the domestic and professional markets for over ten years.  While HEVC can bring respite to content producers, aggregators, distributors and consumers with more quality content at same bitrate, the adoption curve could still be years away. In terms of rate-distortion (RD) performance, HEVC roughly doubles the RD compression performance of H.264/AVC but at a cost of extremely high computational and storage complexities during encoding.  Considering both the superior compression performance of HEVC, as well as the large body of content that is currently encoded using the H.264/AVC standard, a transcoder that can convert H.264/AVC bitstreams into HEVC bitstreams is of great value in many applications, especially before dedicated HEVC encoder systems become widely available, while at the same time various software based HEVC decoders have been demonstrated . Furthermore, there is a wide availability of H.264/AVC encoders on the market with a good trade-off in terms of RD performance and low cost. Thus, an H.264/AVC encoder working in tandem with an efficient H.264/AVC to HEVC transcoder may provide a cost-effective means of performing HEVC encoding for many applications in the absence of dedicated HEVC encoders.
Therefore, there is a double motivation for an H.264/AVC to HEVC transcoder: on the one hand to provide interoperability for the legacy video encoded with H.264/AVC when new devices using HEVC emerge; and, on the other hand, to take advantage of the superior Rate and Distortion (RD) performance of the HEVC standard.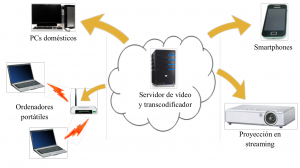 Relevant Publications:
A.J. Diaz-Honrubia, J.L. Martinez, P. Cuenca, J.A. Gamez and J.M. Puerta.
Adaptive Fast Quadtree Level Decision Algorithm for H.264/HEVC Video Transcoding.
IEEE Transactions on Circuits and Systems for Video Technology, ISSN: 1051-8215, Vol 26(1), pp. 154-168, January 2016.
Antonio Jesús Díaz-Honrubia, Gabriel Cebrián-Márquez, José Luis Martínez, Pedro Cuenca, José Miguel Puerta and José Antonio Gámez.
Low Complexity Heterogeneous Architecture for H.264/HEVC Video Transcoding.
Journal of Real-Time Image Processing, ISSN: 1861-8200, Vol. 12(2), pp. 311-327, August, 2016
R. Garrido-Cantos, J. De Cock, J.L. Martinez, S. Van Leuven, P. Cuenca and A. Garrido.
H.264/AVC-to-SVC Temporal Video Transcoder for Video Broadcasting in Wireless Networks.
Multimedia Tools and Applications, ISSN 1380-7501, Vol 75(1), pp. 497-525, January 2016.
Relevant Projects:
People: