Multiplier Event in Croatia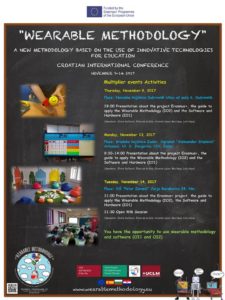 TITLE: "Wearable Methodology" a new methodology based on the use of innovative technologies for Education
DATE: 9th November 2017, 13rd November 2017, 14th November 2017,
SHORT DESCRIPTION: Multiplier event was held in three parts.
The first part took place on the 9th November at library, Dubrovnik, Croatia in conjunction with CUC 20017 conference
In order to present project's activities within the one year, we invited members (teachers, professors, students) from two different organizations; University of Castilla La-Mancha, Albacete, Spain. Primary school El Bonillo. The members of the project participated with several presentation in order to present the project and its activities which led to the final results – outputs 01 Wearable software and hardware, activities, 02 Guide to apply Wearable Methodology.
After presentations, teachers, psychologists, lectures and students participated in the workshop- Educational digital tool "WM"
The second part of the multiplier event took place on the 13rd November in University of Zadar. This was an opportunity for our school and partners to present the project Wearable Methodology and its results.
The third part of the multiplier event took place on the 14th November in the Zoranić Croatia Petar Nin School, Croatia. On that day the students, teachers, parents in Nin and Zadar had to opportunity to try the educational software (IO1)
Lectures:
Presentation about the project, presented by Elvira Vučković View File
Intellectual Outputs(Software, Hardware and guide to apply WM)  presented by Elena de la Guía and Vicente López View File
Introduction about El Bonillo School presented by Lola Haya and Bea Haya View File
April we will be in Bulgaria
June we will be in Spain
Everybody is Welcome 🙂