The ERASMUS + "Wearable methodology" project a new methodology based on the use of innovative technologies for education, will be developed by four European partners, two partners from Spain, Anton Diaz School and the University of Castilla La Mancha, another partner of Bulgaria St. Kliment Ohridski School, and another partner Zoranić Croatia Petar Nin School.
They share the same innovative and transformative concerns in education, and the need to adapt the teaching-learning to the new information and communications technology and the need to exchange experiences and search for new methodological formulas to improve students' academic performance and motivation toward learning, improving basic skills of students and especially on foreign language (English), this will also be a goal for teachers, improve their English skill.
For this, the project involves the design of a new methodology, which we have called: Wearable Methodology (WM).
Based primarily on the idea that the introduction of new technologies is already in our daily life, pupils and teachers use these tools regularly. But we found inconvenient for educational use, these problems are given because working with computers is usually individually, ie student-computer or teacher-computer, rarely we found them on network or allow us to perform activities in which students focus on the learning content, rather than the tool they are using.
The WM methodology would be developed with this project allows interaction and not virtual collaboration of student-student, student-environment, student-teacher and is based on experimental student learning, plus technology, it allows diversity, respecting the rhythm of each student, also allows active and participatory learning using cooperative learning strategies and even a learning designed by the student, the teacher's role change to a mere learning coordinator. This WM can improve students' motivation as he will be the center of learning.
Teachers and students design and implement activities with the use of the software. For the use of the Internet and technology Wearable things, you need a classroom with sensors, chip, whiteboard, projector, internet, tablets and wearable (bracelet) one for each student. School classroom with these characteristics will be create in each School, which we have called: "Wearable Aula", where teachers and students can use WM.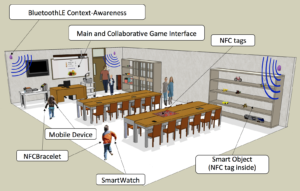 Free software along with the educational activities will be available on the project's blog, together with the explanatory Teaching Guide, how to use it and how to design new activities tailored to school pupils who want to use it. In addition, the Guide will include a study of the results obtained in relation to motivation and school failure.
The impact expected is that school performance and student motivation improve, reducing the rate of school failure in our schools, and thus also lower the dropout rate in secondary education in our rural areas. When young people in a locality achieve secondary education, the community benefits from it, to social, cultural and economic level.